Ukrainian American Music Management
Beautiful unknown Ukrainian music, undiscovered American music, as well as revitalization of standard repertoire, all lovingly presented by the stellar artists on our roster.
Click Here
Our agency specializes in as yet undiscovered Ukrainian and American music and presents hidden gems of both to the American audience.
Our unique programs of "The Music I Never Knew" project are compiled of either Ukrainian or American music or a combination of both. They are presented in either an educational lecture-recital or in a traditional recital format. Powerpoint presentation is available on request.
As Ukrainians defend their motherland, the world is discovering Ukraine, its history, its culture, and its music. Our musicians bring personal connections to their performances, explain the works performed, and share stories about the composers some of whom they knew personally.  Our artists have made a number of premier recordings of music by Ukrainian composers for London based Toccata Classics label.
The American composers from the late 19th to the beginning of 20th centuries that we present are unknown to almost everyone; nevertheless, each chosen work is an outstanding, vibrant, colorful, and engaging piece of music. On hearing these pieces, one inevitably wonders why they have been forgotten. The rare scores of all of the American pieces presented are out of print, being last published around 1900. Our artists made a number of premier recordings of American composers for Naxos and Toccata Classics labels. 
Violinist Solomia Soroka, born in L'viv, Ukraine, made her solo debut at age 10, playing the Mendelssohn Violin Concerto with the L'viv Philharmonic Orchestra. Her playing combines the powerful background of the Ukrainian system with a passionate exploration of lesser played music, especially Ukrainian and American.
She has appeared as soloist and as chamber musician at concerts and festivals in Australia, New Zealand, Germany, France, Italy, Czech Republic, Ukraine, USA, Canada, China, Korea, and Taiwan. She is praised for being "a truly wonderful musician" (The Press, Christchurch, New Zealand), her "technical mastery…ferocity, light and mystic lyricism" (Daily Freeman, New York), and as one who "plays with great warmth and authority" (BBC Music Magazine). She has performed with orchestras in Ukraine, Australia, and the United States.
Ms. Soroka has performed premieres of a number of important contemporary Ukrainian compositions for violin, including works by Borys Lyatoshynsky, Myroslav Skoryk and Yevhen Stankovych.
Since her U.S. debut in 1997, she has performed throughout the United States. Her recitals in Washington DC were part of the Smithsonian Institute performing arts series and she received the following review in the Washington Post:
"Soroka is a superbly equipped violinist, at ease with the technical challenges of Sarasate or of Jeno Hubay's Czardas No. 2, but even more impressive in the gentler moments…. Her tone is warm and mellow on the low strings, brilliant on the high strings, perfectly controlled and expressively used."
Solomia Soroka has toured and recorded extensively with her husband, the pianist Arthur Greene. Their Naxos recording of Four Violin Sonatas by William Bolcom was selected as Recording of the Month with the highest ranking for both artistry and sound quality by Classics Today, and received reviews in various distinguished journals:
"Another virtuoso piece…confidently delivered by this brilliant duo" (Gramophone)
Their recording of the violin sonatas of Nikolai Roslavets, also for Naxos, has received international attention. "Soroka seemed utterly confident, catching a haunting, languid quality within Roslavets's elusive harmonic idiom……" (The Strad)
In the past ten years Soroka has been recording for Toccata Records, based in London, where she made six premier recordings, of music by American composer Arthur Hartmann, Ukrainian Myroslav Skoryk, Mykola Lysenko, and Yevhen Stankovych, and Holocaust composers Leone Sinigaglia and Bernhard Sekles.
Solomia Soroka is currently a violin professor at Goshen College, Indiana, and interim professor at the Bowling Green State University. She is the artistic director of the Sherer Violin/Piano Competition for young musicians and the artistic director of the multicultural series "Musical Evenings at the Ukrainian Museum" in Detroit.  Ms. Soroka has served on the faculty of chamber music at the Kiev Conservatory, and has taught at the Music Fest Perugia in Italy, the Castleman Quartet Program, Pilsen Summer Academy, Schlern Music Festival, and Vivace International Festival. She is active giving masterclasses in her native Ukraine, USA, China, South Korea, Taiwan, Israel, Czech Republic, and Italy.
She studied with Hersh Heifetz, Bohodar Kotorovych, Liudmyla Zvirko and Charles Castleman.
Website information: solomiasoroka.com
Mr. Greene treasures the inheritance of our rich piano repertoire, which he considers among humanity's greatest achievements, and he is grateful for the opportunity to bring it to life and to share it with as many people as possible.
Mr. Greene was first prize winner in major international competitions. He has performed with the Philadelphia Orchestra, the San Francisco, Utah, and National Symphonies, the Ukraine National Symphony, the Czech National Symphony, the Tokyo Symphony, and many others. He has played recitals in Carnegie Hall, the Kennedy Center, Moscow Rachmaninov Hall, Tokyo Bunka Kaikan, Lisbon Sao Paulo Opera House, Hong Kong City Hall and concert houses in Shanghai, Beijing, and Seoul, and all the major cities in Japan. He was an Artistic Ambassador to Serbia, Kosovo, and Bosnia for the United States Information Agency. Mr. Greene recorded the complete Etudes of Alexander Scriabin for Supraphon, and piano works of the Ukrainian composer Mykola Lysenko for Toccata Classics. He has made many recordings together with his wife, the violinist Solomia Soroka, for Naxos and Toccata. He has performed the 10 Sonata Cycle of Alexander Scriabin in many important international venues, including multi-media presentations with Symbolist artworks. He has performed mazurkas with the Janusz Prusinowski Kompania, a Polish folk ensemble. He has been a faculty member of many summer festivals, including the Rebecca Penneys Piano Festival, Perugia MusicFest and Vivace Music Foundation.
Reviews include: "Incomparable master-pianist" (Upper Austria Krone News, 2019); "A profound musician" – The Washington Post; "A masterful pianist" – The New York Times; "Intoxicating appeal" – Mainichi Daily News, Japan; "A romantic splendor of sound-colors" – Ruhr Nachrichten; "Stellar Scriabinist" – American Record Guide.
Arthur Greene is a member of the piano faculty of the  University of Michigan. There he has won the Harold Haugh Award for Excellence in Studio Teaching. He and his students presented a recital series of the complete solo works of Chopin in nine concerts.  He is a frequent judge of piano competitions. His current and former students include prizewinners in international competitions, and his former students hold important teaching positions throughout the United States.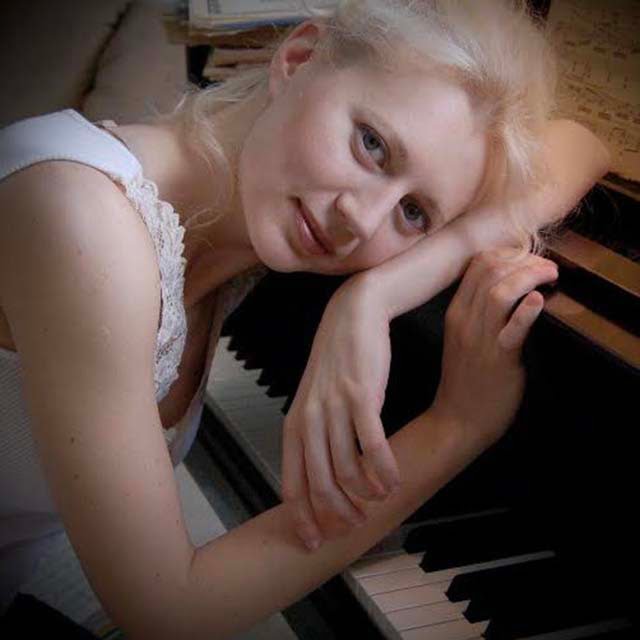 Myroslava Kisilevitch
PIANIST
Pianist Miroslava Kisilevitch was born in Ukraine into a family of professional musicians. After completing her Master of Music in Piano Performance degree, and Doctor of Musical Arts degree with a summa cum laude from Lviv Higher State Music Academy, Ukraine, she came to the US to study with Lydia Artymiw at the University of Minnesota, where she completed her Master of Music in Piano Performance degree, and Doctor of Musical Arts degree with a secondary area in Pedagogy and Education. 
Her extensive performance experience includes solo and chamber performances and as soloist with many orchestras throughout the Ukraine, Czechoslovakia, Poland, Hungary and the United States. She received critical acclaim for her large and varied repertoire (which includes many works of prominent Ukrainian composers), was invited to perform chamber recitals as part of the Smithsonian Institution Recital Series by the Embassy of Ukraine in Washington, DC, and in Chicago in a concert sponsored by the Ukrainian Museum of Chicago. She also appeared as a soloist with the Linden Hills Chamber Orchestra and the Kenwood Symphony Orchestra in Minneapolis, MN. 
She has been on the faculty at North Central University in Minneapolis, MN, MacPhail Center for the Arts in Minneapolis, MN, Westmont College in Santa Barbara, CA, and performing as a Principal Pianist of the Santa Barbara Symphony, CA.
Ukrainian native Yaroslav Daniels is a concert pianist and winner of numerous international music competitions in the United States, Spain, Great Britain, Germany, Italy, the Czech Republic and Ukraine. He is a performing member of Tuesday Musicale of Detroit including concerts at Steinway Music Galleries, the Comic Opera Guild, and LaCorda music associations. Yaroslav earned his Master's degree in Piano Performance in the United States and his Bachelor's and another Master's degree in the prestigious Dnipro Academy of Music in Ukraine. 
Yaroslav was a soloist of Dnipro State House of Organ and Chamber music, frequently performing with prominent symphonic orchestras and on International music festivals. He currently gives solo and collaborative concerts with prominent musicians, choirs and bands in concert tours across the United States and Europe. Since Feb 2022 Yaroslav organized or participated in more than 25 Benefit Concerts for Ukraine raising thousands of dollars in humanitarian help for Ukraine. 
Ukrainian soprano Olga Yalovenko is an artist in high demand. She is a brilliant performer, caring teacher, energetic entrepreneur, and a community activist. Ms. Yalovenko has performed in Ukraine, Spain, and the United States. Her American concerts included Detroit, Cleveland, Chicago, Miami, and Stanford.
Ms. Yalovenko dedicates a lot of her time and effort to helping her country, performing numerous fundraising recitals in the Midwest to help raise humanitarian aid for Ukraine.  
Olga Yalovenko was born in Ivano-Frankivsk, Ukraine and started playing piano at the age 5. She later graduated from the Arts Institute of the V. Stefanyk Carpathian National University where she studied voice with the renowned teacher Mykhaylo Stefaniuk. Ms. Yalovenko is a winner of numerous competitions, including the "Silver Bell"International Competition, the T. Teren Yushkiv Competition (Lviv, 2004), and the Ira Malaniuk All-Ukrainian Competition for Young Vocalists (Ivano-Frankivsk, 2011). She was also a semi-finalist in the First Open International Competition 'Impreza' in Kamianets-Podil's'kyi in 2015.
Since 2012 Ms. Yalovenko has been engaged as a soloist at Ivano-Frankivsk Regional Philharmonic Hall, where she performed solo recitals, sang the role of the Countess in Mozart's Marriage of Figaro, and was a soprano soloist for Pergolesi's Stabat Mater and Mozart's "Exultate jubilate". As a choir singer she participated in the unique project "Unknown Bortnyansky," in which she filmed and recorded five previously unknown choral concertos by 17th century Ukrainian composer Dmytro Bortnaynsky.
Ms. Yalovenko has significant experience as an educator. She served as a vocal instructor at the Sichynskyi Music School in Ivano-Frankivsk, taught in the Institute of Cantors and Regents, a private higher educational institution, and at the "Ivano-Frankivsk Academy of John Chrysostom". In 2020 Olga Yalovenko opened her own vocal school for children in Ivano-Frankivsk. 
Olga Yalovenko was forced her to leave her motherland in February 2022 when the war started. Ms. Yalovenko now resides in Detroit, where she immediately became an active participant in Detroit's musical life. As a member ofDetroit Opera choir, she sang Faust and Aida at the Detroit Opera House. She opened the Olga Yalovenko Vocal Studio in Detroit. Ms. Yalovenko and her students recently presented the children's opera  "Лисичка, Котик, та Півник" by Ukrainian composer Kyrylo Stetsenko as a part of the multicultural  series "Musical Evenings at the Ukrainian Museum".
Ms Yalovenko is a member of the Tuesday Musicale of Detroit.
For more information about the artists we represent and their availability.